The portable infrared thermometer novasens IR512BT enables the contactless measurement of the skin temperature e.g. at the forehead area. In this way, an increased body temperature can be detected quickly and easily.
Thanks to its high measurement resolution, the IR-thermometer can also be used in food production.
This compact and precise infrared skin thermometer is characterized  by an excellent price/performance ratio.
Delivery time and quantity: on request. 
Delivery only to companies and authorities
At a glance
Large backlight Display for reading the measured temperature
Measuring range 5 – 15cm
Measurment range Body temperature 32°C – 42,5°C
Optics 8:1 distance to measuring spot
Memory of the last 32 measurments
Acoustic Limit Alarm with adjustable temperature threshold
°C/F-switchable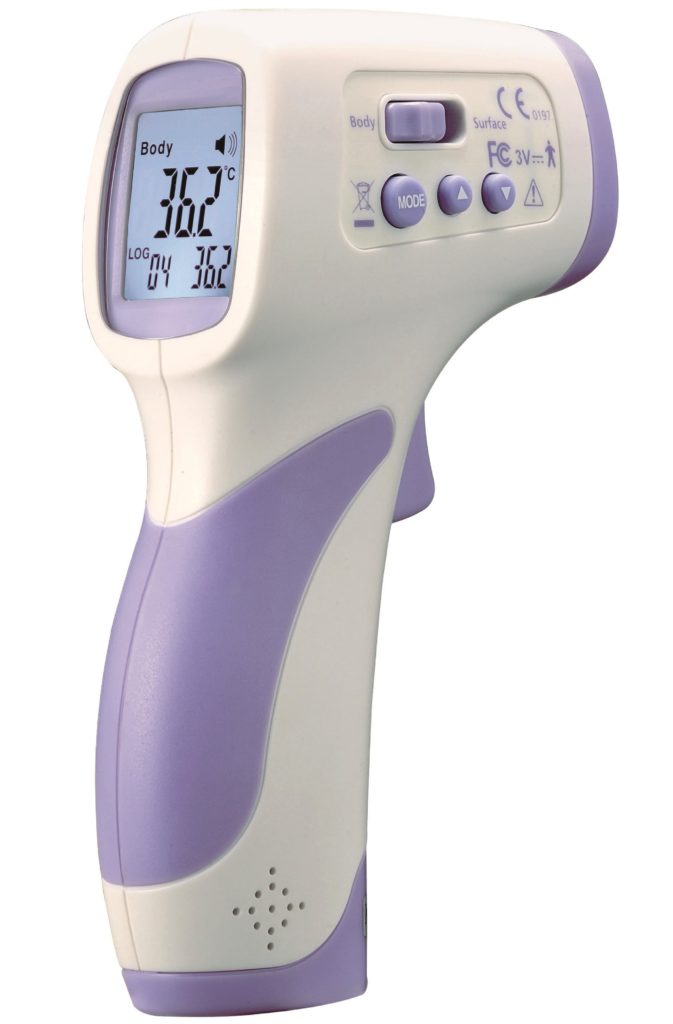 Measuring range
32°C to 42,5°C (Body mode)
0°C to 60°C    (Surface mode)
Dimensions
149mm length x 77mm width x 43mm height
Permissible moisture
<85% not condensing
Permissible ambient temperature
10°C to 40°C
Permissible storage temperature
0°C to 50°C
Distance to measuring spot
8:1
Accuracy
+/- 0,3°C in measuring range 32°C – 35,9°C
+/- 0,2°C in measuring range 36°C – 39°C
+/- 0,3°C in measuring range 39°C – 42,5°C
According STM Standard E1965-1998 (2003)
Measuring distance/measuring range
5 – 15cm
Reaction time
< 1 second
Display resolution
0,1 °C
Power supply
(3VDC) 2 x 1,5V AA Batteries
Battery life
appr. 40 hours in continuous operation
Weight
160 Gram
Delivery scope
Thermometer
Conformity
• RoHS, CE
• EN 12470-5 und ASTM E1965-1998
• EN 980: Graphical symbols for use in the labeling of medical devices
• EN 1041: Information supplied by the manufacturer with medical devices
• EN 60601-1: Medical electric equipment Part 1: General  requirements for safety ( IEC:60601-1:1998)
• EN 60601-1-2: Medical electrical equipment Part 1-2: General requirements for safety Collateral standard
Electromagnetic compatibility Requirements and test (IEC 60601-1-2:2001)
Article number
00512