The digital LED display novasens DP1002 is used to display measured values
which are available as standard signals 0-20mA, 4-20mA and 0-10 Volt.
With universal input conditions and easy programming the panelmeter becomes a powerful instrument for monitoring, measurement and control applications. The measured value can be displayed in °C, %, bar, mbar, rpm, A, kW, pH, Hz, MW, m³ etc.
The most important functions at a glance:
• Input signal selectable: 0-20mA, 4-20mA, 0-10Volt
• Display range voltage, current -1999 … 2000 Digit
• RTD, Pt100 -100.0 … 200.0, or -100 … 400 °C
• LED Display 14,2 mm red
• Indicating range and decimal Point free programmable
• Conversion rate programmable 8/s, 2/s, 0,5/s
• Self-acting display brightness (option)
• Analog output 0 … 10 V DC
• Front Protection IP65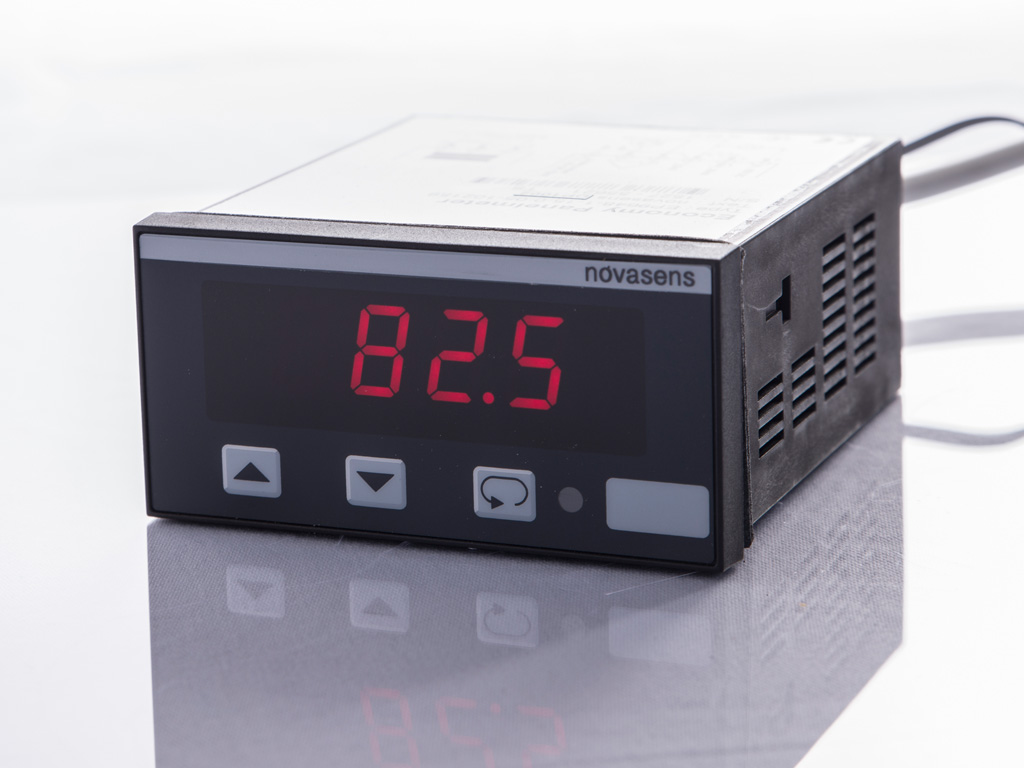 | | |
| --- | --- |
| Power supply | |
| Supply voltage | 230/115 V AC 50/60 Hz ±10 % or 24 V DC ±20 % |
| Power consumption | 3 VA |
| Working temperature | -10 … +60 °C |
| CE-conformity | EN55022, EN60555, IEC61000-4-3/4/5/11/13 |
| Input | |
| Current | 0/4 … 20 mA, Ri 10 Ω overload max. 3-times |
| Voltage | 0 … 10 V Ri 100 kΩ overload max. 3-times |
| Pt100 | -100 … 400 °C, sensor current < 1 mA (low self heating) |
| Accuracy | Voltage/current: 0,1 % ±1 digit – Pt100: ±0,2 °C, ±1 digit |
| Temperature coefficient | Voltage/current: 0,005 %/K – Pt100: 0,01 °/K |
| Display | LED 14,2 mm yellow, green, blue or 20,3mm red |
| Indicating range | -1999 … 2000 digit |
| Decimal Point | Programmable |
| Overflow indication | "-1999″ or " 9999 " flashing with 2 Hz |
| Display brightness (option) | Programmable from 2 … 100 %, with photo sensor (only red Display, optional) |
| Analog output | |
| Voltage | 0 … 10 V DC, linearized, short circuit proof max. 5 mA |
| Accuracy | 0,1 % |
| Case | Panel case DIN 96×48 mm, material PA6-GF; UL94V-0 |
| Dimensions | Front 96x48mm, mounting depth 100 mm |
| Weight | Max. 390 g |
| Connection | Clamp terminals, 0.08mm²…1,5 mm², AWG28…AWG14 |
| Protection class | Front IP65, terminals IP20 acc. to BGVA3 |