The digital panelmeter novasens DP1001 is suitable for a variety of control options.
Simple monitoring, measurement, control and regulation tasks can be carried out excellently with this switching display as an alternative to a PLC/SPS control. All measured variables that are available as standard signals 0-20mA, 4-20mA and 0-10 Volt can be processed. The built-in transmitter supply enables the direct connection
of 2- and 3-wire transmitters, e.g. for pressure or temperature sensors.
The connection of potentiometers is also possible. The display range and the decimal place can be freely selected within ± 9999 digits. It is also possible to fill the displayed value with a zero. This extends the display range to ± 9999 (0) Digits.
The most important functions at a glance:
• LED-Display 14,2 mm red
• Display range ±9999(0) Digit
• Display range and decimal point freely programmable
• Second measuring input for difference, average value etc.
• Max. 4 alarm outputs relay or transistor
• Galvanically isolated analog output, 0/4-20 mA and 0/2-10VDC
• Protection class front IP65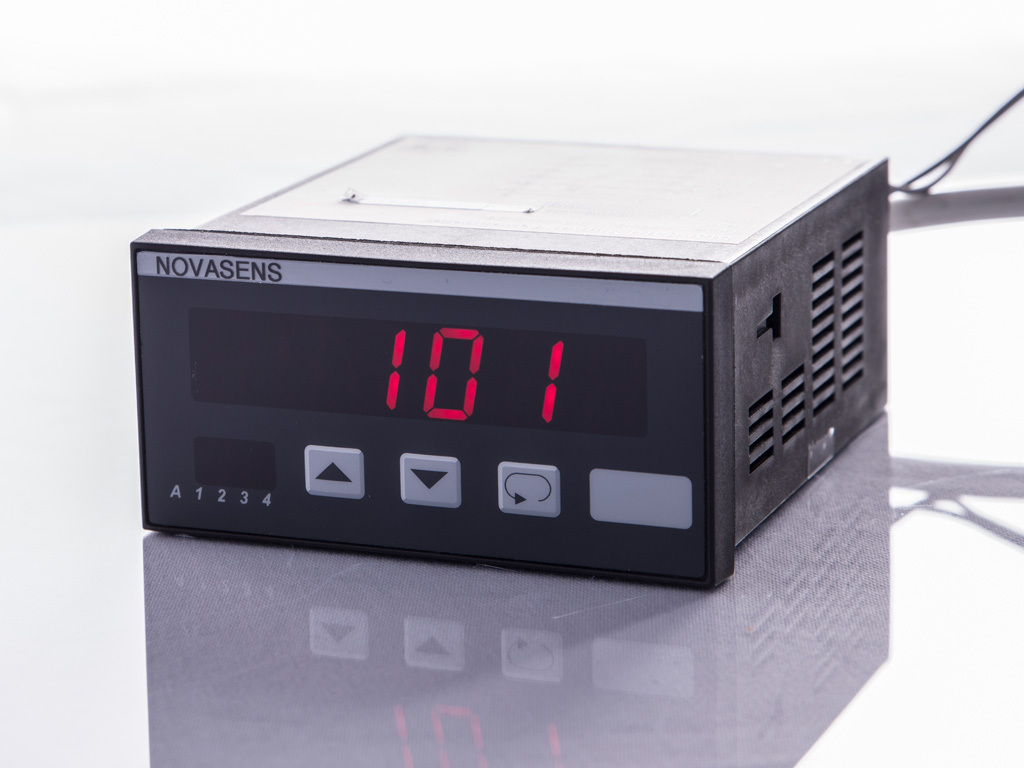 | | |
| --- | --- |
| Power supply | 230 V AC ±10 %; 115 V AC ±10 %, 24 V AC ±10 % or 24 V DC ±15 % |
| Power consumption | max. 3,5 VA, with 5 VA |
| Operating temperature | -10 … +55 °C |
| CE-Conformity | EN55022, EN60555, IEC61000-4-3/4/5/11/13 |
| Input | |
| Current | 0/4 … 20 mA, Ri = 10 Ohm |
| Voltage | 0 … 10 V, Ri = >100 kOhm |
| Potentiometer | 0 … 1 kOhm/100 kOhm |
| Accuracy | < 0,1 % ±2 Digit |
| Temperature coefficient | 0,004%/K |
| Transmitter supply | U0 approx. 24 V, Ri ca. 150 , max.50mA (max. 25 mA with 4 relays) |
| Display | LED red, 14,2 mm |
| Indicating range | ±9999(0) digit with leading zero suppression |
| Parameter display | LED 2-digit red, 7 mm (parameter and output indicator) |
| Output | |
| Relay | SPDT < 250 V AC < 250 VA < 2 A, < 300 V DC < 50W < 2 A |
| Transistor | max. 35 V AC/DC max. 100mA, with short circuit protection |
| Analog | 0/4 … 20 mA burden 500Ohm ; 0/2 … 10 V burden >500 Ohm , isolated automatically output changing |
| Accuracy | 0,1 %; TK 0,01 %/K |
| Case | Panel case DIN 96×48 mm, material PA6-GF; UL94V-0 |
| Dimensions | Front 96x48mm, mounting depth 100 mm |
| Weight | max. 390 g |
| Connection | Clamp terminals 0.08 – 1.5 mm² AWG28..AWG14 |
| Protection class | Front IP65, terminals IP20 acc. BGV A3 |