The novasens DP1003 universal measuring device is suitable for a wide range of measurement options. It has the same functions as the novasens DP1001 panel meter, but is built into a robust field housing with IP65 protection. This makes it suitable for use in harsh industrial environments.
Simple monitoring, measurement, control and regulation tasks can be carried out excellently with this switching display as an alternative to a PLC/SPS control. All measured variables that are available as standard signals 0-20mA, 4-20mA and 0-10 Volt can be processed.
The built-in transmitter supply enables the direct connection
of 2- and 3-wire transmitters, e.g. for pressure or temperature sensors. The connection of potentiometers is also possible. The display range and the decimal place can be freely selected within ± 9999 digits. It is also possible to fill the displayed value with a zero. This extends the display range to ± 9999 (0) Digits.
The most important functions at a glance:
• Robust field housing with hinge cover in protection class IP65
• LED-Display 14,2 mm red
• Display range ±9999(0) Digit
• Display range and decimal point freely programmable
• Max. 2 alarm outputs relay
• Analog output, 0/4-20 mA and 0/2-10VDC
• With cable glands 2 x M16x1.5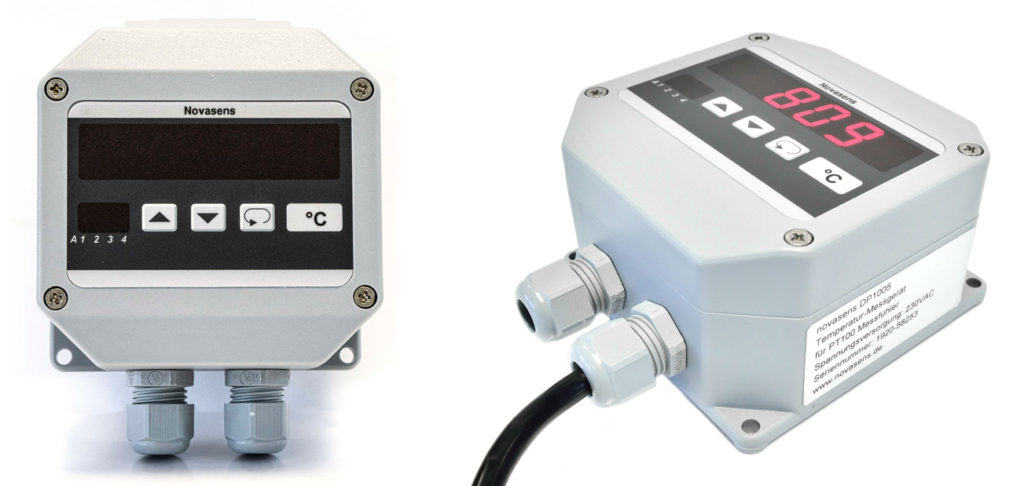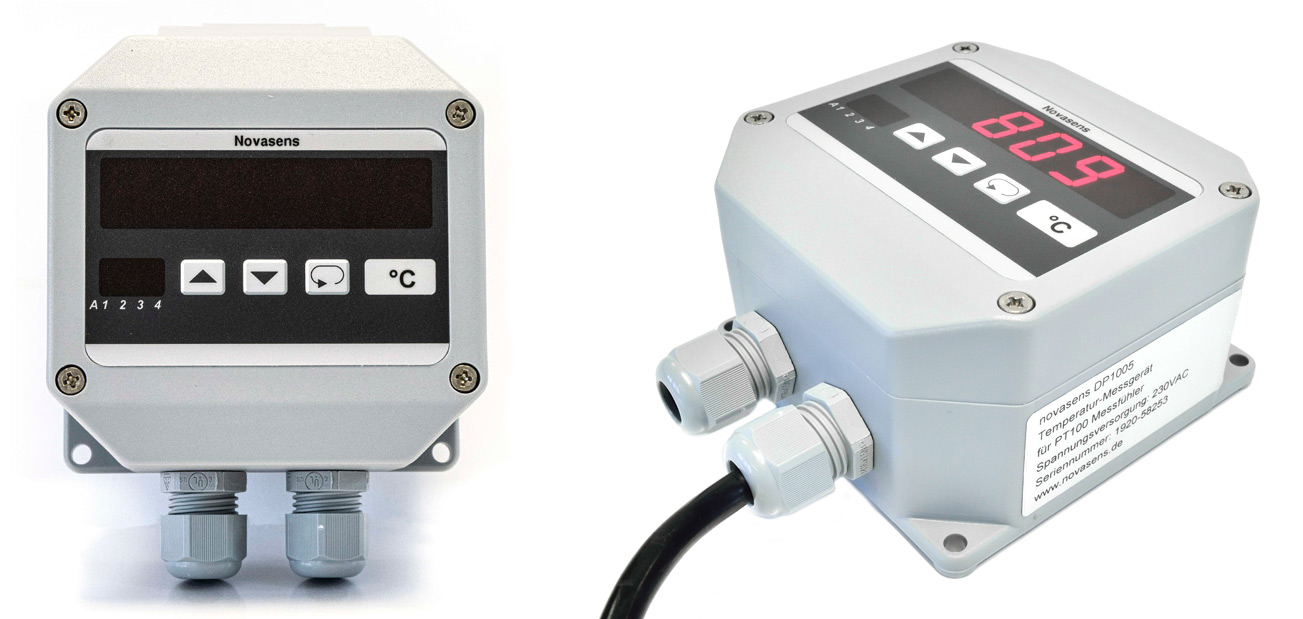 | | |
| --- | --- |
| Power supply | |
| Supply voltage | 230 V AC ±10 %; 115 V AC ±10 %, 24 V AC ±10 % or 24 V DC ±15 % |
| Power consumtion | max. 3,5 VA |
| Operating temperature | -20 … +55 °C |
| CE-Conformity | EN55022, EN60555, IEC61000-4-3/4/5/11/13 |
| Input | |
| Current | 0/4 … 20 mA, Ri = 10 Ohm |
| Voltage | 0 … 10 V, Ri = >100 kOhm |
| Potentiometer | 0..1 kOhm / 100 kOhm |
| Accuracy | < 0,1 % ±2 digit |
| Temperature coefficient | 0,004%/K |
| Transmitter supply | U0 appr. 24 V, Ri ca. 150 , max.50mA (max. 25 mA with relay and analog output) |
| Display | LED red, 14,2 mm |
| Indicating range | ±9999(0) digit with leading zero suppression |
| Parameter display | LED 2-digit red, 7 mm (parameter and output indicator) |
| Output | |
| Relay | SPDT < 250 V AC < 250 VA < 2 A, < 300 V DC < 50W < 2 A |
| Analog | 0/4 … 20 mA burden ≤500 Ω; 0/2 … 10 V burden >500 Ω, without Isolation, automatically Output changing |
| Accuracy | 0,1 %; TK 0,01 %/K |
| Case material | Field case polyamid glass fiber reinforced PA6-GF 15/15, frontfoil with polyester |
| Dimensions | 100x100x60mm, see datasheet |
| Weight | max. 350 g |
| Cable Glands | 2 x M16x1.5 |
| Connection | Clamp terminals 0.08 – 1.5 mm² AWG28..AWG14 |
| Protection class | Front IP65, terminals IP20 acc. BGV A3 |
• Download Datasheet PDF