The novasens DP1005 temperature meter is suitable for measuring and displaying temperatures in conjunction with PT100 and PT1000 resistance temperature sensors. Thanks to its robust field housing with protection class IP65, it is also very suitable for use in harsh industrial environments.
The measuring input is galvanically isolated from the auxiliary voltage.
The respective measuring range can be limited to the required measuring span in the configuration level. For devices with an analog output, this is also the area for the analog output.
Simple measurement, monitoring, control and regulation tasks can be mapped very well with this temperature controller.
The most important functions at a glance:
• LED-Display 14,2 mm red
• Measuring input Pt100 -100,0 … 600,0 °C* Pt1000, -50,0 … 200,0 °C
• Max. 2 Alarm Outputs, relay SPDT
• Analog output 0/4 … 20 mA und 0/2 … 10 V DC
• Robust field housing with hinge cover in protection class IP65
• With cable glands 2 x M16x1.5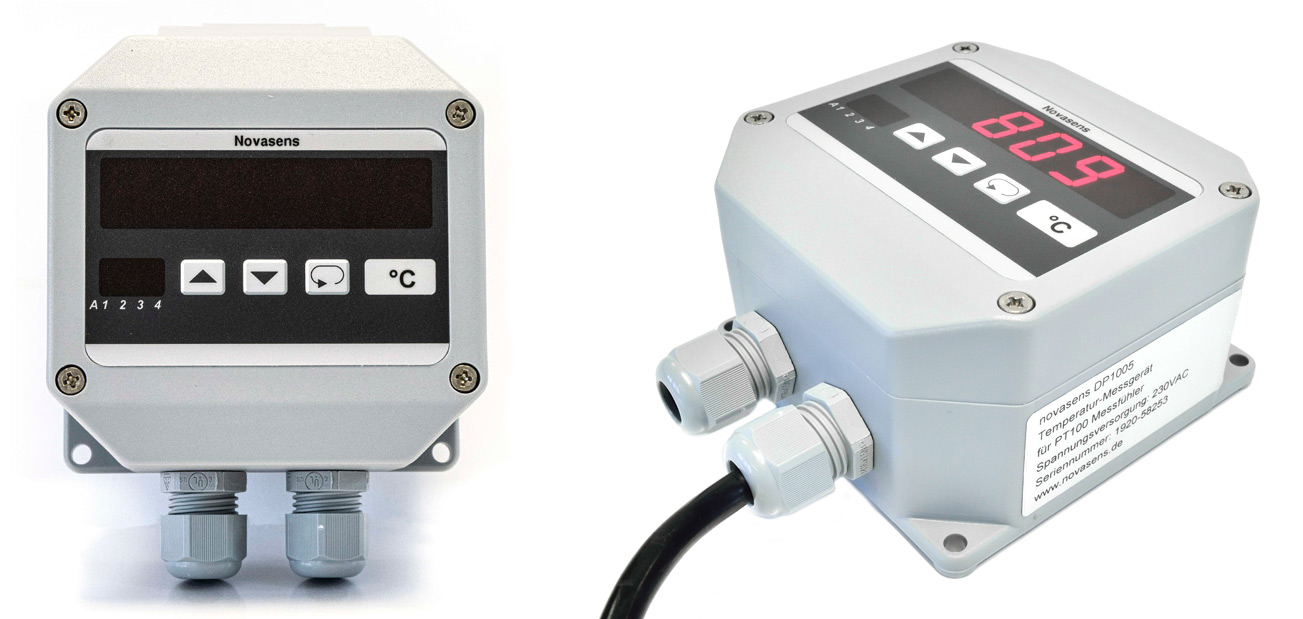 Power supply
Supply voltage
230 V AC ±10 %; 115 V AC ±10 %, 24 V AC ±10 % or 24 V DC ±15 %
Power consumption
max. 3,5 VA
Operating temperature
-20 … +55 °C (erweiterter Temperaturbereich auf Anfrage)
CE-Conformity
EN55022, EN60555, IEC61000-4-3/4/5/11/13
Input
Pt100; PT1000
-100 … 600 °C ; -50 … 200 °C
Accuracy
Pt100 or Pt1000 < 0,1% ±2 Digit, max. 100 Ohm line resistance
Temperature coefficent
0,004%/K
Display
LED red, 14,2 mm
Indicating range
±9999(0) digit with leading zero suppression
Additional Display
LED 2-digit red, 7 mm (parameter and output indicator)
Output
Relay
SPDT < 250 V AC < 250 VA < 2 A, < 300 V DC < 50 W < 2A
Analog
0/4 … 20 mA burden 500Ohm ; 0/2 … 10 V burden >500 Ohm , no isolation
automatic output changing (burden dependent)
Accuracy
0,1 %; TK 0,01 %/K
Case material
Field case polyamid glass fiber reinforced PA6-GF 15/15, frontfoil with polyester
Dimensions
100x100x60mm, see datasheet
Weight
max. 450 g
Connection
Clamp terminals 0.08 – 1.5 mm² AWG28..AWG14
Protection class
Front IP65, terminals IP20 acc. BGV A3
• Download Datasheet PDF