The infrared temperature sensor IR502GAC has the same features as the sensor IR502G, but can also be used in very hot and / or dirty environments thanks to its air cooling / lens cleaning using compressed air. Its high-precision germanium optics detects even the smallest measurement objects over larger measuring distances.
• Robust sensor for use in very hot or very dirty environments
• Connection for air cooling and lens cleaning by compressed air
• High quality, moisture-insensitive, germanium optics
• Robust, tough sensor housing
• Compact design, easy to integrate and assemble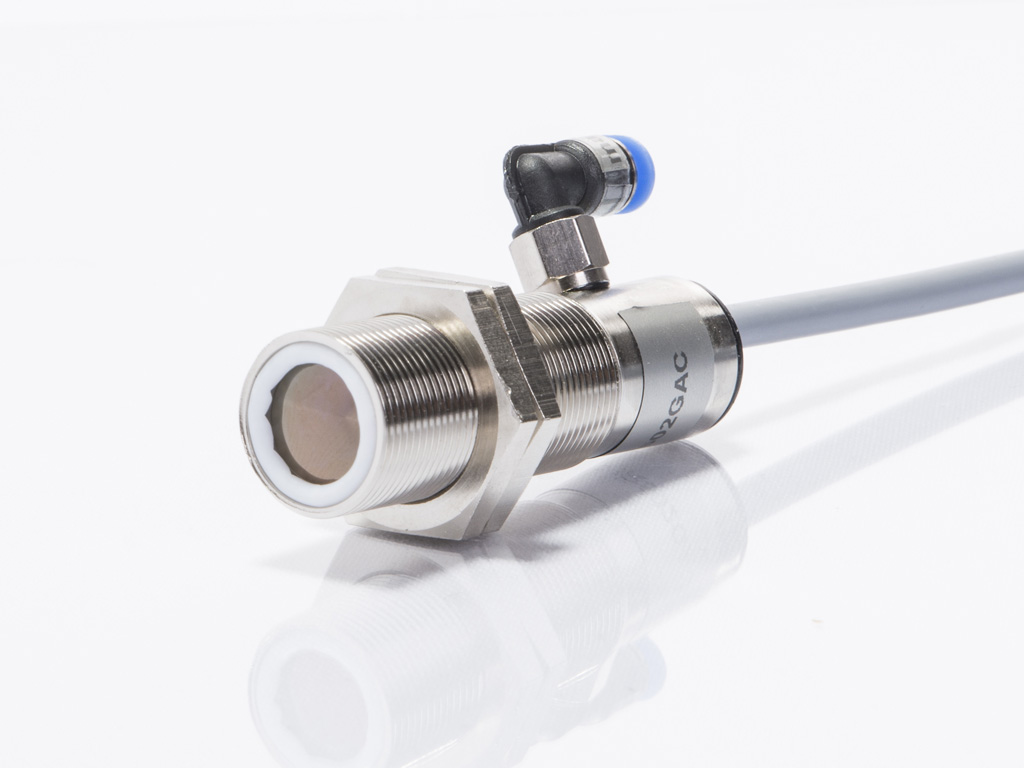 The sensor is optionally available in the following variants
(see PDF Datasheet):
• IR502G (more…)
• IR502GS
• IR508G
• IR508GS
• IR502GW
Measuring range / field of application
-40°C to + 1000°C Temperature Measurement System novasens 2050
0 – 250 % Hotmelt Control System novasens 2000
Spectral range
8-14 μm
Emissivity correction
1,0 to 0,1 adjustable on Controller
Dimensions
Length 62 mm x 18 mm Diameter with M18 x 1 thread
Permissible moisture
95% not condensing
Permissible ambient temperature
-20°C to +170°C
Distance to measuring spot
100mm : 2mm
Accuracy
+/- 1% of reading
Repeat accuracy
0,5°C (0-100°C), 1,0°C (over 100°C)
Reaction time
60ms
Resolution
1/10°C
Outputs
0-20mA, 4-20mA, 0-10VDC selectable on controller
Weight
190 Grams (sensing head with 3m cable including plugs)
Protection class
IP64
Delivery scope
Sensing head with 3m cable including plugs and mounting screws, with air filter F110
Conformity
RoHS-conformity, CE-Sign
Article number
0200236
The sensor works as a part with the complete Infrared Temperature Measuremen System novasens 2050 or the Hotmelt Control System novasens 2000.
Dimensions

Optical Specifications